Awning Repairs West Midlands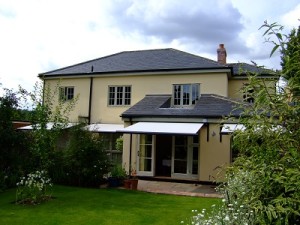 Savills provide Awning Repairs in The West Midlands for the last ten years a crucial part of our business has been to provide fast and efficient awning repairs and refurbishments.
Our skilled team are on hand to diagnose and repair Weinor, Markilux and Thomas Sanderson awnings. Simply get in touch, and a member of the team will arrange a visit at a time of your convenience to explore the reasons for your awning breakdown.

Types of awning fixed include: garden awnings, patio awnings, sun awnings, conservatory awnings and pergola awnings.
There can be several causes for awning problems many of which are caused by wear and tear. The numerous moving components of an awning make them susceptible to breakdown.

Fabric repairs: This is a common problem that is caused by weathering over time the sun can fade and perish awning fabric, moisture and rain also affect stitching. Continual exposure to the wind will warp and stretch fabric.
Often awning fabrics that have been left extended in the full view of the sun or has spent the majority of the time rolled up will suffer from the above problems.
Awning arms: This area of an awning has to cope with significant strain on occasion an awning arm will snap this, in turn, can lead to ripped fabric
Motors: All moving parts can from time to time will break down, awning motors are a routine repair for the team at Savills. The average motor life for most brands of awning ranges from 5-7 years.
West Midlands Awning repairs service
Fabrics: Savills will recover your existing awning with high quality polyester acrylic or polyester Fabric this strong treated fabric is specifically designed to perform for many years to come our awning fabrics are available in over 200 different colours.
Arms: Should you require a repair to your awning arms we will recommend both awning arms be replaced at once. The new arm will be stronger than the one we replace this can lead to an imbalance.
Motors:Of the three standard awning repairs, this malfunction is the easiest to correct, the team will simply order and replace the broken motor.
Warranty: All of the awning repairs in The West Midlands mentioned above will include a three-year Guarantee when performed on a domestic awning and a 1-year Guarantee when completed in a commercial situation.
Savills Repair Awnings in The West Midlands
Savills Repair Awnings in West Midlands, including the main cities and counties of Wolverhampton, Birmingham, Walsall, Warwickshire, Telford, Shropshire, Worcester and the wider Worcestershire area Get in touch Today.
Please not we only repair the following awnings: Weinor, Markilux and Thomas Sanderson.